ELECTRONIC DESIGN
SPN has many years of experience in digital and analog electronics design. SPN designs and builds standard and custom electronics for use in our control systems.

SPN's USB Interface Module pictured at right is connected to a SMC Solenoid Block. The only wiring used to control up to 20 valves is a USB comm and a +24 V DC plug.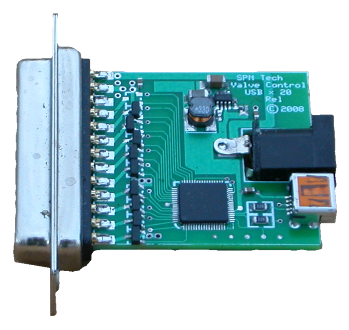 The PC Board from SPN's USB Interface Module controls the Solenoid Block above.

SPN designs, builds and programs standard and custom USB to analog, digital or mixed signal interface / control boards.
Contact us with your specific electronic control requirements.